Surprising Benefits of Sourdough Bread: How Fermentation Makes It Healthier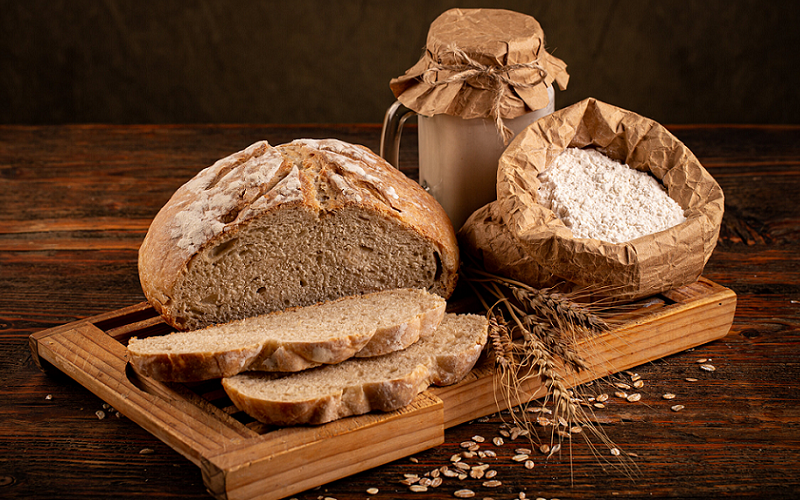 Sourdough bread has been a staple food for thousands of years, but in recent years it has experienced a resurgence in popularity. Many people are drawn to its unique flavor and texture, but did you know that sourdough bread also has surprising health benefits? The key to these benefits is fermentation, a natural process that occurs when making sourdough bread. Here we explore the science behind fermentation and how it makes sourdough bread healthier than commercial bread.
What Is Sourdough Bread?
Sourdough bread is a type of bread that is made using a natural sourdough starter, which is a mixture of flour and water that has been left to ferment for a period of time. Unlike commercially produced bread, which is made using yeast and other additives, sourdough bread relies solely on the natural fermentation process to rise and develop flavor.
The sourdough starter is made up of a combination of wild yeasts and bacteria, which naturally occur in the flour and in the environment. When the flour and water mixture is left to ferment, these yeasts and bacteria consume the sugars in the flour and release carbon dioxide and lactic acid. This creates an acidic environment that gives sourdough bread its distinctive tangy flavor and chewy texture.
Sourdough bread is believed to have originated thousands of years ago, when humans first started cultivating wild grains and making bread. Before the advent of commercial yeast and refrigeration, sourdough was the primary method of leavening bread, and it remained popular even after the industrialization of bread making.
Today, sourdough bread is still a popular and beloved food, thanks in part to its unique flavor and texture, but also because of the health benefits associated with the fermentation process. Sourdough bread is easier to digest than commercial bread, has a lower glycemic index, and is higher in nutrients such as vitamins B and E. The natural fermentation process is believed to have immune-boosting and anti-inflammatory properties.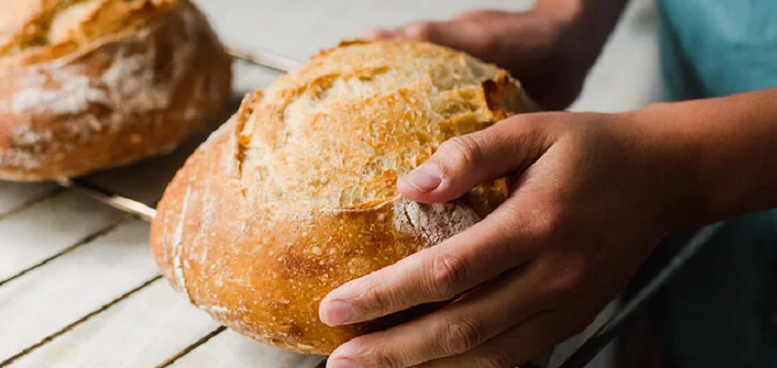 What Is Fermentation?
Fermentation is a natural process that occurs when microorganisms, such as bacteria, yeast, or fungi, consume organic compounds in the absence of oxygen. These microorganisms convert the organic compounds, such as sugars or carbohydrates, into simpler compounds, such as alcohol, lactic acid, or acetic acid. The resulting chemical reactions produce energy for the microorganisms, and create byproducts that can have a range of effects on the surrounding environment.
Fermentation has been used by humans for thousands of years to produce a variety of foods and beverages, such as bread, cheese, wine, and beer. In each of these cases, the fermentation process is used to produce a desired flavor, texture, or effect. For example, in the case of bread, fermentation is used to leaven the dough, creating air pockets that give the bread a light and fluffy texture.
The types of microorganisms involved in fermentation can vary depending on the type of food or beverage being produced. For example, lactic acid bacteria are used to produce yogurt and sourdough bread, while Saccharomyces cerevisiae is used to produce beer and wine.
Fermentation can occur naturally or can be initiated through the addition of a starter culture, which contains specific strains of microorganisms. In some cases, the fermentation process may also involve the use of preservatives, such as salt or vinegar, which can help to inhibit the growth of unwanted microorganisms and promote the growth of the desired microorganisms.
In addition to its use in food production, fermentation also has a number of other important applications. For example, it is used in the production of biofuels, and is a key part of the carbon cycle in natural environments.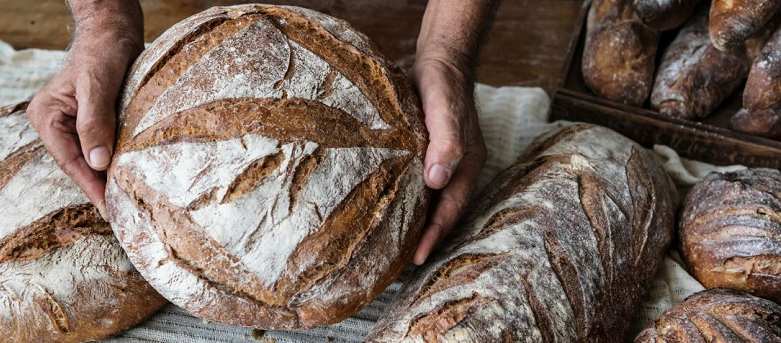 Health Benefits of Sourdough Bread
Sourdough bread has a number of health benefits, many of which are associated with the fermentation process that is used to make it. Here are some of the key health benefits of sourdough bread:
Easier to Digest: Sourdough bread is easier to digest than other types of bread, due to the presence of lactic acid bacteria in the sourdough starter. These bacteria help to break down the gluten in the flour, making it easier for the body to digest. As a result, many people with gluten sensitivity or other digestive issues find that they can tolerate sourdough bread more easily than other types of bread.
Lower Glycemic Index: Sourdough bread has a lower glycemic index than other types of bread, meaning that it causes a slower and more gradual rise in blood sugar levels. This is because the fermentation process converts some of the carbohydrates in the flour into organic acids, which can slow down the absorption of glucose in the bloodstream. As a result, sourdough bread may be a better choice for people with diabetes or those trying to manage their blood sugar levels.
More Nutrients: The fermentation process used to make sourdough bread can increase the availability of nutrients in the bread. For example, the organic acids produced during fermentation can help to release minerals such as iron, zinc, and magnesium from the flour, making them more easily absorbed by the body. Sourdough bread is also higher in vitamins B and E than other types of bread.
Boosts Immune System: Sourdough bread contains a range of beneficial microorganisms, including lactobacillus and bifidobacterium, which can help to support the immune system. These microorganisms are believed to help strengthen the gut microbiome, which plays a key role in overall immune function.
Reduces Inflammation: The lactic acid bacteria in sourdough bread are also believed to have anti-inflammatory properties, which can help to reduce inflammation in the body. Inflammation has been linked to a range of chronic health conditions, such as heart disease, diabetes, and autoimmune disorders, so reducing inflammation through diet can be an important part of overall health.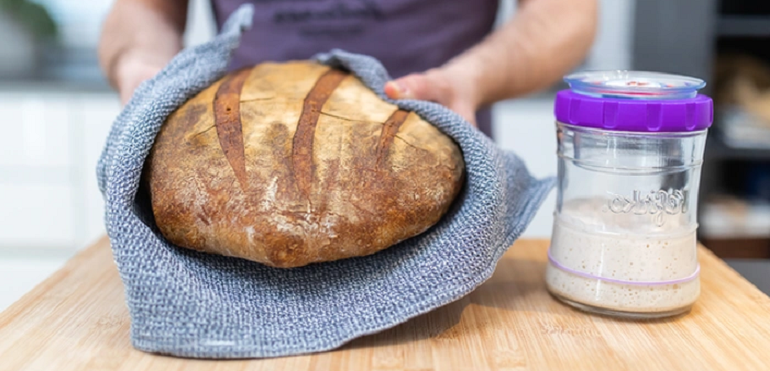 Other Benefits of Sourdough Bread
Sourdough bread has numerous benefits beyond its unique flavor and health-promoting properties. Firstly, the acidic environment created during the fermentation process helps to inhibit the growth of mold and other unwanted microorganisms, which gives sourdough bread a longer shelf life than other types of bread. This means that sourdough bread can often last for several days without going stale or molding, making it a more convenient and cost-effective choice.
Secondly, the natural fermentation process used to make sourdough bread creates a unique flavor and texture that many people find appealing. The fermentation process creates a tangy, slightly sour flavor, and a chewy, airy texture that is hard to replicate with other types of bread. Many people prefer the taste and texture of sourdough bread to other types of bread, making it a popular choice for sandwiches, toast, and other dishes.
Thirdly, sourdough bread is often seen as a more sustainable and eco-friendly choice than other types of bread. Unlike commercial bread, which relies on a range of additives and preservatives, sourdough bread is made using only flour, water, salt, and the natural microorganisms present in the environment. This makes it a more natural and environmentally friendly choice for those concerned about the impact of food production on the planet.
Finally, some research suggests that the fermentation process used to make sourdough bread can break down some of the gluten in the flour, making it easier to digest for people with gluten sensitivity or celiac disease. While sourdough bread is not necessarily gluten-free, it may be a more tolerable choice for those with gluten-related health issues.
How to Make Sourdough Bread
Making sourdough bread involves a series of steps that require time, patience, and attention to detail. While the process can be somewhat intimidating for beginners, the results are often well worth the effort. Here is a step-by-step guide to making sourdough bread.
Make the Sourdough Starter: The first step in making sourdough bread is to create a sourdough starter. This involves combining flour and water and allowing the mixture to ferment for several days. To make a sourdough starter, mix 1 cup of flour and 1 cup of water in a jar, cover the jar with a cloth or a loose-fitting lid, and let it sit at room temperature for 24 hours. After 24 hours, discard half of the mixture and feed the remaining half with another cup of flour and another cup of water. Repeat this process every day for 5-7 days, until the starter is active and bubbly.
Mix the Dough: Once the sourdough starter is active, it's time to mix the dough. In a large mixing bowl, combine 3 cups of flour, 1.5 cups of water, and 1 teaspoon of salt. Add 1 cup of the sourdough starter to the mixture and stir until well combined. The dough should be sticky and shaggy.
Knead the Dough: Turn the dough out onto a floured surface and knead it for 10-15 minutes, until it becomes smooth and elastic. This will help to develop the gluten in the dough and give it a more desirable texture.
Let the Dough Rise: Place the dough in a lightly oiled bowl, cover it with a cloth, and let it rise at room temperature for 6-8 hours. The dough should double in size during this time.
Shape the Dough: Once the dough has risen, turn it out onto a floured surface and shape it into a round loaf. Place the loaf in a floured basket or bowl, cover it with a cloth, and let it rise for another 2-3 hours.
Preheat the Oven: Preheat the oven to 450°F (230°C) and place a Dutch oven or other heavy, oven-safe pot with a lid in the oven to heat up.
Bake the Bread: When the oven and pot are hot, carefully remove the pot from the oven and place the dough inside. Cover the pot with the lid and bake for 30 minutes. After 30 minutes, remove the lid and bake for an additional 15-20 minutes, until the bread is golden brown and sounds hollow when tapped.
Let the Bread Cool: Remove the bread from the pot and let it cool on a wire rack for at least 1 hour before slicing and serving.